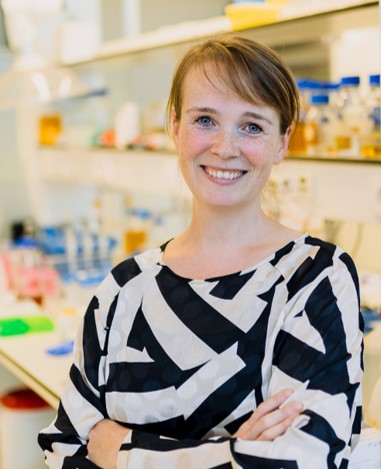 Biography Prof. Dr. M.T.C. Walvoort
Current position: Associate Professor (tenure-track) / Rosalind Franklin Fellow
After obtaining her MSc degree in Chemistry at the Leiden University, Prof. Marthe Walvoort did a research internship in the glycoscience group of Prof. Ben Davis at the University of Oxford. Intrigued by the complex world of carbohydrates, she returned to Leiden University for her PhD studies with Prof. Hermen Overkleeft and Prof. Gijs van der Marel in the field of carbohydrate chemistry. Her research included the investigation of the mechanism of glycosylation of mannuronic acids, and she led the automated synthesis of β-mannuronic acid alginates and hyaluronan using a second-generation solid-phase oligosaccharide synthesizer. She obtained the PhD degree cum laude.
She joined the glycobiology lab of Prof. Barbara Imperiali at the Massachusetts Institute of Technology (Cambridge, USA) as a postdoc associate. There she led the development of  phosphoglycosyltransferase inhibitors inspired by nucleoside antibiotics, and was involved in a collaborative effort to link a bacterial infection to biomarkers in multiple sclerosis by producing N-linked glycoproteins.
At the University of Groningen, her research focuses on the synthesis of complex oligosaccharides and glycoconjugates from human and bacterial origin using chemistry and biology.
Grants and awards
Early Career Award Royal Netherlands Academy of Arts and Sciences KNAW (€15,000)
Athena Award Dutch Research Council (€50,000)
Interdisciplinary PhD project; Faculty of Science and Engineering competition for a 4-year PhD position together with Prof. Dirk-Jan Scheffers (€120,000)
Noorderheide Award for the best Diligentia lecture in 2018/2019
NWO-CCC grant 'Carbobiotics' (main applicant, €500,000)
Gratama Wetenschapsprijs (€25,000)
Interdisciplinary PhD project; Young Academy of Groningen competition for a 4-year PhD position together with Dr. Rudolf Fehrmann, University Medical Center Groningen (€120.000)
VENI fellowship, Dutch Science Organization NWO (personal grant, €250,000)
Nominated for 'New Scientist Wetenschapstalent'
Rosalind Franklin fellowship, six years tenure-track position, University of Groningen
Cum Laude qualification of PhD thesis.
Backer Award for Best Thesis in Organic Chemistry in the Netherlands (€2,500)
C. J. Kok Award 'Discoverer of the Year 2012', Leiden University (€2,500)
Poster Award, 15th European Carbohydrate Symposium, Vienna (€250)
Travel grant to Vienna awarded by the Royal Dutch Chemistry organization (KNCV)
Grants from the KNCV, Leiden University Fund, Science Faculty Fund, Curatorenfonds, and Outbound Study Grant to support my internship at the University of Oxford